Soundtrack Information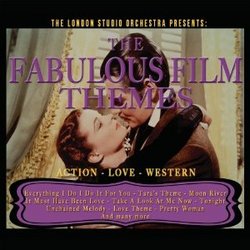 Fabulous Film Themes
Release Date: March 6, 2012
Performed by
The London Studio Orchestra
Format: Digital
Purchase Soundtrack
Track Listing
Disc 1: Fabulous Film Themes
1.
Moon River (Breakfast At Tiffany's)
2.
Tonight (West Side Story)
3.
Bilitis
4.
Barry Lindon
5.
Tara's Theme (Gone With The Wind)
6.
Orfeo Negro
7.
The Shawdow Of Your Smile (The Sandpiper)
8.
Ryan's Daughter
9.
Gelsomnia
10.
Umbrellas Of Cherbourg
11.
Emmanuelle
12.
Rocky
13.
The Great Gatsby
14.
The Way We Were
15.
Love Theme (Romeo & Juliet)
16.
As Time Goes By (Casablanca)
17.
Summer of 42
18.
Moulin Rouge
19.
Love's Theme
20.
A Man & A Woman
Disc 2: Fabulous Film Themes
1.
The Magnificent Seven
2.
A Fistful Of Dollars
3.
High Noon (AKA Do Not Forsake Me)
4.
For A Few Dollars More
5.
Wand'rin Star (Paint Your Wagon)
6.
The Good, The Bad, & The Ugly
7.
Ballad Of The Alamo (The Alamo)
8.
Once Upon A Time In The West
9.
Hang 'Em High
10.
Rio Bravo
11.
How The West Was Won
12.
My Name Is Nobody
13.
A Fistful Of Dynamite
14.
Johnny Guitar
15.
The Comancheros
16.
The Return Of The Seven
17.
A Gun For Ringo (My Name Is Nobody)
18.
The Man With The Harmonica (Once Upon A Time In The West)
19.
Good Luck Jack (My Name Is Nobody)
20.
Pancho Villa
Disc 3: Fabulous Film Themes
1.
Everything I Do I Do It For You (Robin Hood Prince Of Thieves)
2.
I Wanna Sex You Up (New Jack City)
3.
Wicked Game (Wild At Heart)
4.
Turtle Power (Teenage Mutant Ninja Turtles)
5.
Looks Like A Suicide (Dances With Wolves)
6.
Oh Pretty Woman (Pretty Woman)
7.
E.T. The Extra-Terrestrial
8.
Unchained Melody (Ghost)
9.
Wind Beneath My Wings (Beaches)
10.
Silence Of The Lambs
11.
Take A Look At Me Now (Against all Odds)
12.
Time Of The Seasons (The Awakenings)
13.
Palomo Negro Theme
14.
Gonna Fly Now (Rocky)
15.
Monica Theme Remix
16.
It Must Have Been Love (Pretty Woman)
Track lengths not available for this album. If you have track length/time information for this album, please e-mail it to us at mail@soundtrack.net and we will add it to the database.
Related Albums
Dances with WolvesFirst Pressing Limited Edition of 1,000 Copies
Music On Vinyl / At the Movies (MOVATM067)

Released: May 16, 2016

Format: Vinyl (53 min)

West Side StoryExpanded Edition
Legacy Recordings (SK 89226)

Released: Unknown

Format: CD
Missing Information?
If any information appears to be missing from this page, contact us and let us know!