Movie Information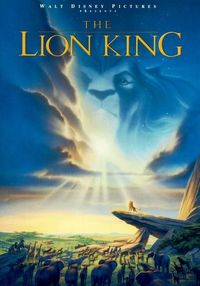 The Lion King
Released: June 15, 1994
Credits
director

Roger Allers

director

Rob Minkoff
Compilation Soundtracks

Promotional / Bootleg Soundtracks
Review: Lion King (Diamond Edition Blu-ray), The
by Dan Goldwasser
October 8, 2011
4 / 5 Stars
In 1994, Walt Disney Feature Animation was in the middle of its second renaissance, one proudly led by Jeffrey Katzenberg. There had already been three major hits - The Little Mermaid, Beauty and the Beast and Aladdin, and the studio was ramping up on another film, Pocahontas, another surefire hit.  But there was another feature film that had been in the works at the studio, an animal-only film that had some seriously dark plot points, Biblical and Shakespearian in nature.  Originally called King of the Jungle, this 32nd feature animated film from Walt Disney Studios would go on to become one of the studio's highest-grossing pictures, win a slew of Academy Awards, and was known as The Lion King.
Young lion cub Simba is presented to all the animals of the pride land by mandrill shaman Rafiki (Robert Guillaume), as the new heir to the kingdom.  His father Mufasa (James Earl Jones) is understandably proud, but not so thrilled is Mufasa's brother Scar (Jeremy Irons), who is now no longer in line for the throne. When Scar's plan to goad Simba into exploring the forbidden elephant graveyard (where he would be killed by hyenas) is thwarted by Mufasa, Scar comes up with a new plan to help the hyenas take of the pride lands.  He lures Simba into a dried riverbed, and has the hyenas instigate a wildebeest stampede.  Mufasa rescues Simba, but is killed when Scar refuses to save him.  Simba is convinced by Scar that Mufasa's death was his fault, and Simba runs away, ashamed of what he'd done. Nearly dead, Simba is rescued by a dramatic meerkat named Timon (Nathan Lane) and a flatulent warthog named Pumbaa (Ernie Sabella).  They take him in, nurse him back to health and they live a carefree lifestyle, their motto being "Hakuna Matata" ("No Worries"). 
Years later, adult Simba (Matthew Broderick) rescues Pumbaa from a lioness attack only to discover that the lion is his childhood friend Nala (Moira Kelly), and learns that not only did everything think he was dead, but Scar and the hyenas have devastated the pride land and they're nearly out of food and water.  Though Nala begs, Simba refuses to come back and take his place as rightful king.  But when Rafiki ends up finding Simba, he forces the reluctant prince to look into himself and discover what his father had intended for him to be.
Co-directors Rob Minkoff and Roger Allers deftly guide us through this tale of family, betrayal, banishment, acceptance and revenge. There's a lot of deep stuff going on in the film - the father/son dynamic is excellent, and when Mufasa is killed, it's about as emotionally moving as when Bambi's mother died. The lighthearted moments are there, in thanks to Timon and Pumbaa and (to a degree) Rafiki's crazy-old-man schtick.  But it's the scheming ruthlessness of Scar and the always laughing-but-deadly hyenas that bring us back to a serious note.  All of this is heightened through Hans Zimmer's Oscar-winning score, full of emotion and energy, and the arrangements he did of Elton John and Tim Rice's songs are phenomenal.  The Lion King is Disney animated masterpiece that was not only a box-office smash when it first came out, but also managed to top the box office once again when recently released in 3D. 
Originally released as a 2-disc Platinum Edition DVD in 2003, The Lion King makes its high definition debut as a Diamond Edition Blu-ray release.  To say that The Lion King on Blu-ray sports a perfect transfer is an understatement. Not is the image so sharp and clear as to accurately render out every drawn inked line with amazing detail, but the colors are so pure and vibrant that I found myself pausing the film at times just to marvel in the glory of the image. Combine that with the fact that, at least on my screen, I didn't notice any banding in the fine gradients (and there are a lot of color gradients in this film!), and I applaud Disney for being consistent in delivering nearly flawless-looking Blu-rays.
The audio, on the other hand, left me with mixed feelings.  The DTS-HD Master Audio 7.1 mix is certainly well done, with aggressive use of the surrounds, deep bass and immersive soundscapes, but I found myself turning up the volume to hear the dialogue.  For some reason it just felt lower - even comparing it to the Dolby Digital 5.1 French and Spanish tracks seemed to confirm that the levels sounded lower.  The result of this, naturally, is that when the volume is raised to compensate for the dialogue, the Hans Zimmer's excellent score and Elton John's music and the sound effects are much louder, making it a somewhat uneven experience.  It's too bad they didn't include the original theatrical mix on here, like they did with the DVD release, for 'purists'.
Unlike other "Diamond Edition" Blu-rays from Disney, almost all of the old archival DVD supplements are included only as a BD-Live streaming choice. More on that later. But we are given a few new extras, in addition to the old ones. First up is the well done commentary by directors Rob Minkoff and Roger Allers, and producer Don Hahn, which was not only on the original DVD release, but also the laserdisc release of the film.  "Bloopers and Outtakes" (HD, 4-minutes) is a bit of an audio gag reel that was animated. Cute, but unnecessary.  Going into "Backstage Disney: Diamond Edition", we get the first major chunk of new material, starting with a great new look back at the film with the cast and crew in "Pride of The Lion King" (HD, 38-minutes). This retrospective features directors Minkoff and Allers, producer Hahn, executie producer Thomas Schumacher, former Walt Disney Studios chairman Jeffrey Katzenberg, former president of Walt Disney Feature Animation Peter Schneider, former Disney chairman and CEO Michael Eisner, composer Hans Zimmer, lyricist Tim Rice, Broadway adaptation director Julie Taymor, actors Matthew Broderick, Nathan Lane, and so many more. Suffice it to say, the nearly 40-minute long extra is a great look back, with the insight that only the passage of time (nearly two decades) can afford. The natural follow-up to this is "The Lion King: A Memoir - Don Hahn" (HD, 19.5-minutes), a continuing look back, but instead of a look-back, we get actual behind-the-scenes footage and discussions about the project. Again, very well done.  Watch both back-to-back, and you have an excellent hour that will really take you into the whole making-of the film. "Deleted and Alternate Scenes" (HD, 14.5-minutes) gives us a look at five early storyboard versions of scenes from the film, some that were dropped, and some that were just shortened in the final version of the film.  Of interesting note is the deleted song "King of the Wild".
In the "Music and More" section, we are given two options: "Play movie with Sing-Along Mode" (basically the movie with subtitles that show up on the songs only), and "The Morning Report: Extended Scene" (HD, 3-minutes), a new song from the Broadway show that was animated and put into the Platinum Edition DVD release of the film, but now included just as an extra.  "Interactive Art Gallery" (HD) contains hundreds of beautiful HD imagery, completely searchable and browseable, categorized by "Character Design", "Visual Development", "Storyboards" and "Layout and Backgrounds".
My favorite new supplement is the "Disney Second Screen". If you don't have an iPad, don't fret, since you can use your laptop and view the material online. This method of syncing up your device with the movie as you watch it allows you to watch relevant video clips, browse production artwork, animation sketches, flipbooks, games, puzzles, and more. It's basically most of (if not all of) the artwork from the "Interactive Art Gallery", presented in an excellent way that supplements the movie as you watch it. They did it with Bambi and Tron Legacy, and I hope they keep doing it - it adds so much value to the product.
Probably the most disappointing feature is "Disney's Virtual Vault". Like the Fantasia and Fantasia 2000 Blu-ray release, all of the excellent archival DVD supplements have been relegated to a streaming BD-Live format, with an unfortunately slow and cumbersome interface.  While nearly two hours of supplemental material is included, not everything from the DVD release is here - and we still don't get the original trailers. So if you have the original DVD release, don't get rid of it if you want to keep the supplements easily accessible.
The Lion King has definitely been given the royal treatment for Blu-ray. It's got a phenomenal visual transfer, a good - but not perfect - sound mix, and some solid new extras (as well as the ability to access the old DVD extras). It's worth holding on to your original DVDs, but this release is also well worth the double-dip.
News &amp Articles
Missing Information?
If any information appears to be missing from this page, contact us and let us know!