Soundtrack Information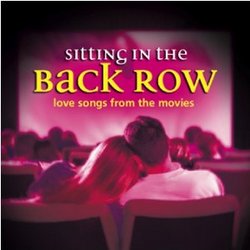 Sitting In the Back Row: Love Songs from the Movies
Release Date: April 24, 2012
Format: CD
Purchase Soundtrack
Track Listing
1.
I Will Always Love You (The Bodyguard)
2.
Love Is All Around (4 Weddings & A Funeral)
3.
Where Do I Begin? (Love Story)
4.
My Heart Will Go On (Titanic)
5.
As Time Goes By (Casablanca)
6.
True Society (High Society)
7.
Everything I Do) I Do It For You (Robin Hood)
8.
Tara Theme (Gone With The Wind)
9.
Can You Feel The Love Tonight? (Lion King)
10.
A Groovy Kind Of Love (Buster)
11.
The Time Of My Life (Dirty Dancing)
12.
Up Where We Belong (Officer & A Gentleman)
13.
A Time For Us (Romeo & Juliet)
14.
Evergreen (A Star Is Born)
15.
The Greatest Love Of All (The Greatest)
16.
The Way We Were (The Way We Were)
Track lengths not available for this album. If you have track length/time information for this album, please e-mail it to us at mail@soundtrack.net and we will add it to the database.
Related Albums
Love StoryGeffen Records

Released: 1970

Formats: CD, Digital, Vinyl (30 min)
Missing Information?
If any information appears to be missing from this page, contact us and let us know!