Soundtrack Information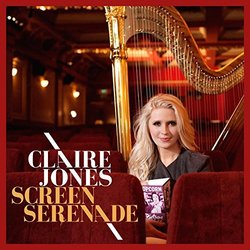 Claire Jones - Screen Serenade
Release Date: October 28, 2016
Performed by
Claire Jones
Formats: CD, Digital
Purchase Soundtrack
Track Listing
| | | |
| --- | --- | --- |
| 1. | Jurassic Park | 2:37 |
| 2. | The Notebook | 3:04 |
| 3. | Ice Dance (From "Edward Scissorhands") | 3:43 |
| 4. | Speak Softly, Love (From "The Godfather") | 1:50 |
| 5. | Cavatina (From "The Deer Hunter") | 1:32 |
| 6. | May it Be (From "The Lord of the Rings") | 2:51 |
| 7. | You're So Cool (From "True Romance") | 3:26 |
| 8. | Pirates of the Caribbean | 1:42 |
| 9. | E.T. The Extra-Terrestrial | 1:33 |
| 10. | Romeo and Juliet | 2:56 |
| 11. | Game of Thrones | 1:30 |
| 12. | Downton Abbey | 3:32 |
| | Total Album Time: | 30:16 |
From the Manufacturer
Screen Serenade is a glorious celebration of well-loved film and TV themes especially arranged for solo harp by Claire's husband, percussionist and composer Chris Marshall. Claire's radiant performances range from commanding torrents of sound to a new, fragile and contemplative quality that Claire brings to music usually associated with the strings, piano and even the full orchestra. Sublimely delicate, yet at times poignant and implacable, Screen Serenade is a delightful album featuring themes such as Jurassic Park, Ice Dance (Edward Scissorhands), Downton Abbey, Cavatina (Deer Hunter), Pirates of the Caribbean, Romeo and Juliet, and E.T.
One of Wales' most outstanding classical talents, Claire became a household name in 2011 following her esteemed performance at the Royal Wedding for the Duke and Duchess of Cambridge, and she also held the position of Official Harpist to HRH The Prince of Wales 2007-11.
"I have been in love with film music since I was a child, and have always wanted to create an album which includes my favourite soundtracks of all time. The sound of the harp brings an element of magic and sparkle to these well-known themes, and my dream as always is to bring the harp to a wider audience across the world" – Claire Jones
Missing Information?
If any information appears to be missing from this page, contact us and let us know!